If you haven't been living under a rock lately, you're probably aware that Beachclub is seriously killing it on all fronts. They are constantly growing and evolving with each passing day, so it is no surprise that this summer's lineup is out of control.
Beachclub is a combination of everything you crave about summer: sand, palm trees, poolside lounging, drinks, food, music, cool people, and nothing but good vibes. There's definitely no shortage of excuses to get you to Beachclub ASAP, but if you'd like a few more, here are 6 events they're hosting this summer you simply cannot miss!
Photo cred: beachclub.com
Above & Beyond June 11th, 2016
Photo cred: beachclub.com
Above & Beyond is a progressive trance group hailing from England and they are definitely worth seeing live! Before landing at Beachclub, they will be starting a tour this month in Australia. Their tour consists of locations around the world: Vegas, Slovakia, Czech Republic, Spain and more. We are very lucky Beachclub snagged them for a memorable performance on Quebec soil. You will recognize their recent hit, 'On My Way Heaven' feat. Richard Bedford. I have no doubt you will spend the entire day dancing (with drink and pool breaks, of course). Get your tickets now!
Dimitri Vegas & Like Mike June 12th, 2016
Photo cred: beachclub.com
This outstanding duo, ranked #1 in the world by DJ Mag 2016, will be appearing for the first time ever in Quebec at our beloved Beachclub. DVLM is comprised of two DJ/producer brothers with some unbelievable talent. With a progressive house sound, they can't stop pumping out the hits! Not only do they make some good music, they've also got their own label, Smash the House. Their vibe both on and off stage is unmatched, and you definitely don't want to miss their first appearance in your province. Get your tickets now!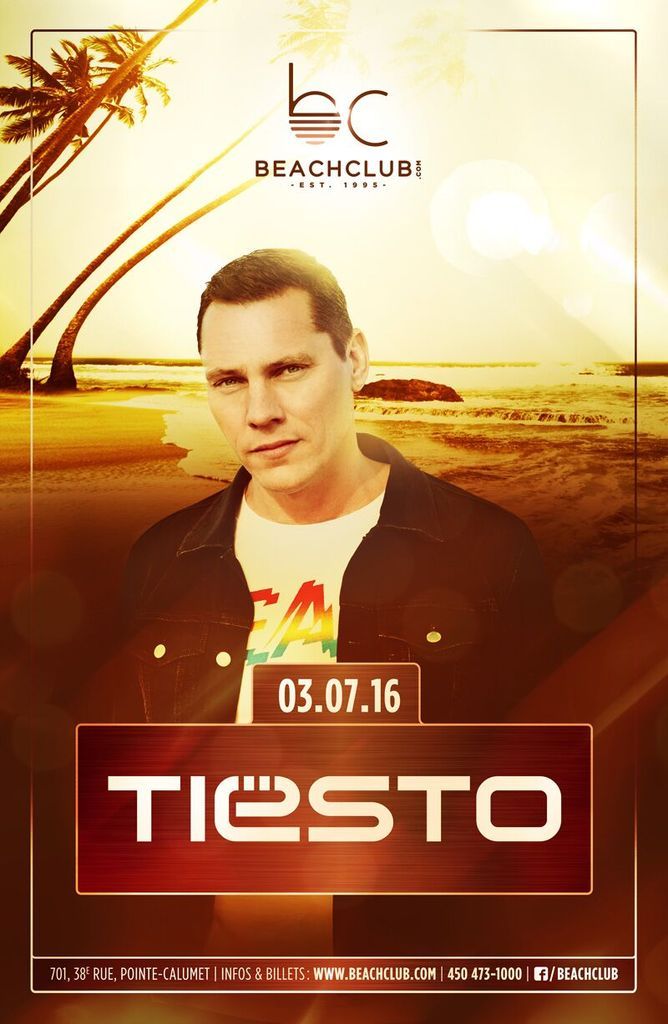 Photo cred: beachclub.com
And here we have an electronic musician who needs no introduction at all. Tiesto has been topping the charts without fail for years now, and he's shown no signs of slowing down. Ranked #1 on DJ Magazines Top 100 from 2002-2004, he continues to release fresh tunes, drastically altering his style from song to song and transforming to best feature each artists with whom he collaborates. Not only are his songs true bangers, he really knows how to get a crowd going! You just can't have a bad time at one of his shows, especially when it's on a beach! Get your tickets!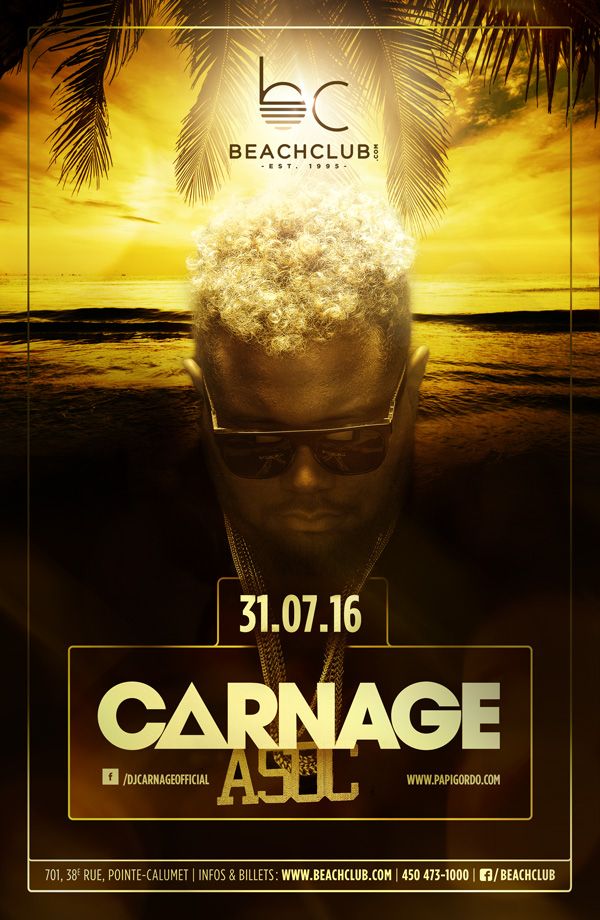 Photo cred: beachclub.com
Yet another EDM legend takes the stage at Beachclub this summer! Carnage is a DJ and producer of hip hop, trance, and progressive house music. Each of his mixes showcase his versatility with fresh and unique sounds every time. Some of his songs you may recognize are: 'Toca,' 'I Like Tuh,' 'Bricks,' and more. Think about an afternoon listening to hip hop/house music with the sun on your face and a drink in your hand. It doesn't get much better than that. Though, the face that those beats are coming from this unreal DJ definitely helps! Get your tickets today!
Photo cred: beachclub.com
Just when we thought the lineup was stacked enough, this duo kicks down the door. Dada Life is made up of two Swedish DJs from Stockholm who came together in '06. You have most definitely heard of them, so I won't even bother naming some of their hits. In 2013, they broke the record for the largest pillow fight at a Dada Life Compound event, and in 2015, they broke the record for largest gathering of people dressed as fruit at Dada Land: The Voyage. They are much more than just DJs. Dada Life really kills it and they can absolutely rock a stage, so we're thanking our lucky stars that Beachclub is bringing them to Quebec this summer. Get your tickets!
Hardwell & Dannic August 21st, 2016
Photo cred: beachclub.com
Hardwell, ranked #1 in DJ Mag in 2013 and 2014, will be taking the stage at Beachclub this season, along with Dannic! The two are both house DJs who rock every stage they step onto and will make no exception at Beachclub this summer. You've probably heard some of Hardwell's recent hits including: 'Run Wild,' 'Dare You,' 'Sally,' 'Echo,' and more. He is constantly touring worldwide and we can't wait for his performance at Pointe-Calumet, Quebec! Get your tickets now!