While Canada is full of beautiful homes, nothing seems to match the timeless charm of Montreal's gorgeous dwellings. If you're in need of a good vacation - or you want to take a weekend staycation and pretend responsibility doesn't exist - this wonderful city has a lot to offer. Check out these jaw-dropping Airbnb in Montreal for the perfect getaway.
1. This loft is bursting with Old Port charm. Exposed brck walls, wooden beams, 3 fireplaces, king beds, and more. The master bedroom alone could be an above average bachelor apartment.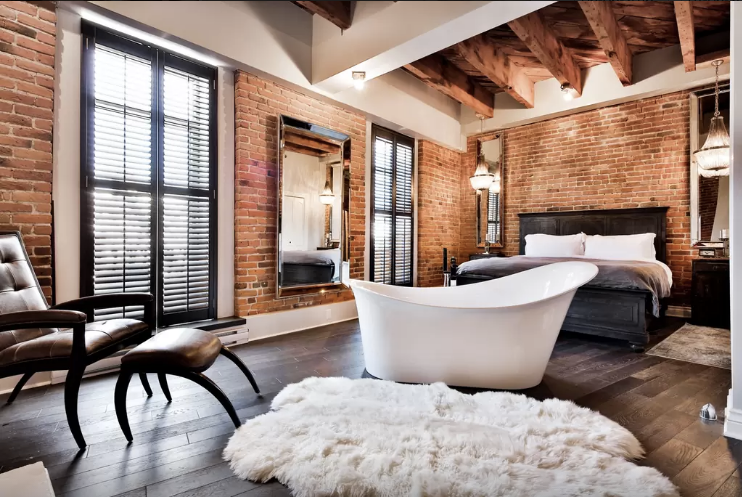 Photo cred: airbnb.ca
2. This unique loft brings the term "open concept" to a whole new level. We're talking big! The space is over 3, 000 sq. ft. With an industrial, yet upscale, feel, you can transform this apartment into the perfect event space or just enjoy a lavish vacation. Surround sound, 2 large flat screen TVs, and catering/DJ/wait staff options to take advantage of. Head over with a group of friends for a wild weekend, or enjoy a weekend in this massive space solo.
Photo cred: airbnb.ca
3. Here we have a breathtaking penthouse with one of the coolest rooftops imaginable. The place itself is filled with Montreal charm: exposed bricks, open concept, beamed roofs, and more. Enjoy the minimalist decor and the contemporary, luxurious feel. The views are unobstructed with floor to ceiling windows so you can see the beautiful Old Port. The best part? The rooftop features an urban lounge with a fire pit, BBQ, pool, and chill area. There's also a common space with a movie theatre, kitchen, gym, and entertainment space.
Photo cred: airbnb.ca
4. This loft is funky! Its award-winning architecture has been featured in both Architectural Digest and New York Times. Right in the heart of the Old Port, this 2 bedroom is nearly 1, 3000 sq. ft. Celebrities and NHL players have called this place home, and for good reason! It overlooks the river and the city centre for some amazing views.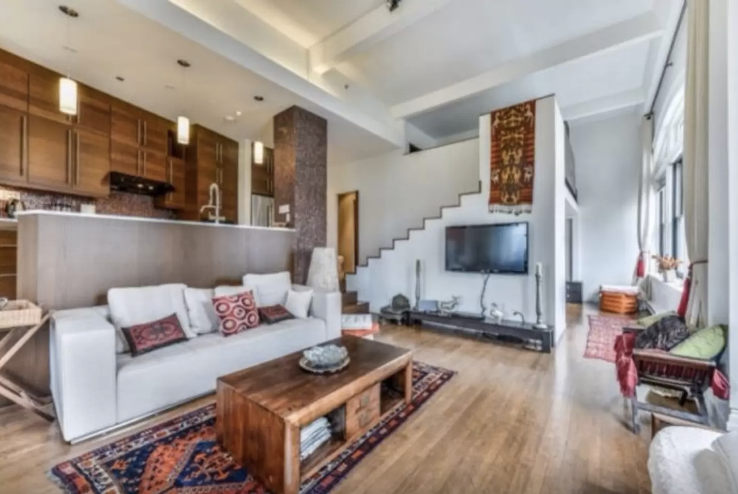 Photo cred: airbnb.ca
5. This stunning property is located inside a gorgeous historical building with a 24 hour doorman to make you feel like royalty. It is sleek, modern, and spacious. With 14 ft. ceilings and over 1, 600 sq. ft., you have a ton of space to enjoy. You will also find a kind sized bed, a queen sized bed, a 50" TV, and all the luxury you can imagine.
Photo cred: airbnb.ca
6. This Plateau apartment might be on the small side, but what it lacks in space it makes up in wow-factor. The apartment has one closed bedroom with a king bed and an open, loft-like room with two queens. It also has a street-view balcony, and is located right next to buzzing St. Laurent. The decor is sleek with hardwood floors and a cozy feel.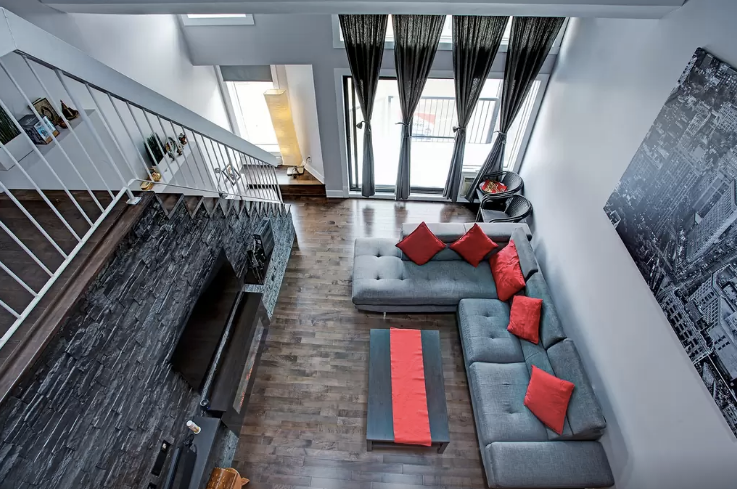 Photo cred: airbnb.ca
7. Surprise! This one's a boat! Yes. You can rent out a luxury sport fisher in the Old Port for a seriously amazing week/end in Montreal. Hop on and hop off to enjoy all the city has to offer, including the food and nightlife in the Old Port of Montreal. Take advantage of a large bedroom with a full bathroom, a pullout bed, a kitchen, and a spacious living room. Spend the day out on the water and grab a few drinks at night with a friend on land!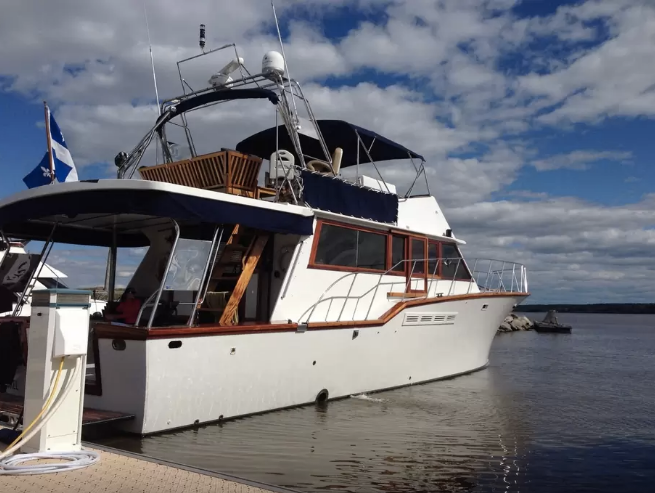 Photo cred: airbnb.ca
8. Located in a beautiful section of the Old Port, this loft has gorgeous views and equally gorgeous interiors. The multi-pane windows make for a bright and inviting living space with a slightly industrial feel. Grab a few pals and sleep in the bunkbeds everyone dreamed of having when they were a kid!
Photo cred: airbnb.ca
9. Nestled in a 3-unit historical building, this Old Port apartment is the perfect fusion between new and old. Modern furniture and decorations along with brick walls and high ceilings make for a beautiful space. On the first floor of the building, there is a chic boutique and you will be just a few steps away from some of the country's best food, galleries, nightlife, and more.
Photo cred: airbnb.ca
10. This one might be a little small, but the rooftop makes up for it. Think: a massive rooftop terrace with tables, lounge chairs, and nothing but hangout space. There is also a pool you can enter indoors and swim out to some exposed space to enjoy the sunshine. The home itself is new and sleek with beautiful interior design and a very homey feel.
Photo cred: airbnb.ca